People with pre-existing conditions could face sharply higher costs in some states if the legislation was enacted, the Congressional Budget Office reported Wednesday.
But that analysis did not account for several significant changes Republicans made to the bill in order to secure more votes, including amendments that weaken federal protections for people with pre-existing conditions. Once the GOP leadership locked in the 216 votes it needed for a majority, Speaker Paul Ryan did not want to risk losing support while waiting for a new CBO score-a highly unusual move for such far-reaching legislation and one that drew condemnation from Democrats and independent policy analysts.
Related Story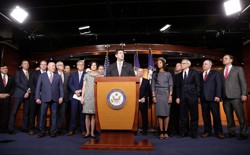 The House Votes to Repeal Obamacare
The fresh projection did bring relief to Republicans in one respect: The CBO found that the House-passed bill complied with budget reconciliation rules that it decrease the deficit after the first decade of enactment. A finding to the contrary would have fatally doomed the bill in the Senate, forcing House Republicans to make more revisions and hold another vote to comply with the complicated legislative procedure they initiated to circumvent a Democratic filibuster and pass their bill with just a simple majority in the Senate. In another unusual move, Ryan held the measure in the House for weeks after it passed while waiting for confirmation from the CBO that it contained sufficient deficit reduction.
The speaker told reporters on Tuesday that he did so "out of an abundance of caution" while noting that CBO can be unpredictable. "We have every reason to believe we're going to hit our mark," he said. The most recent CBO report in March found that the GOP bill would have reduced the deficit by $150 billion, leaving Republicans plenty of room to maneuver. They added only $8 billion in new spending to boost support for people with pre-existing conditions earlier this month, but policy analysts warned that late changes allowing states to opt out of Obamacare's insurance regulations-which won the crucial support of conservatives-could lead to a much greater drain on the federal budget. A separate report on the legislation issued Wednesday by the Joint Committee on Taxation found that it would represent a $663 billion tax cut over a decade, largely through the repeal of increases levied on the wealthy as part of the Affordable Care Act.